There is no job more important than that of a teacher. We believe in supporting teachers both personally and professionally, so you can take the lead in shaping the future of public education.
Beginning in Fall 2021, Green Dot Public Schools is partnering with King Middle School in Beaumont, Texas.
Transformation Schools
---
Transformation schools, sometimes referred to as turnaround schools, are public schools once operated by a school district that are now operated by public charter schools and continue to serve the attendance boundary. Green Dot is widely considered the most experienced school turnaround operator in the country.
When teachers lead, schools win.
Across our network, teachers are key decision-makers and help achieve better outcomes and higher graduation rates for all students.
We are focused on graduating students fully prepared for college, leadership and life. We are dedicated to helping parents organize and transforming parents' expectations of their neighborhood schools.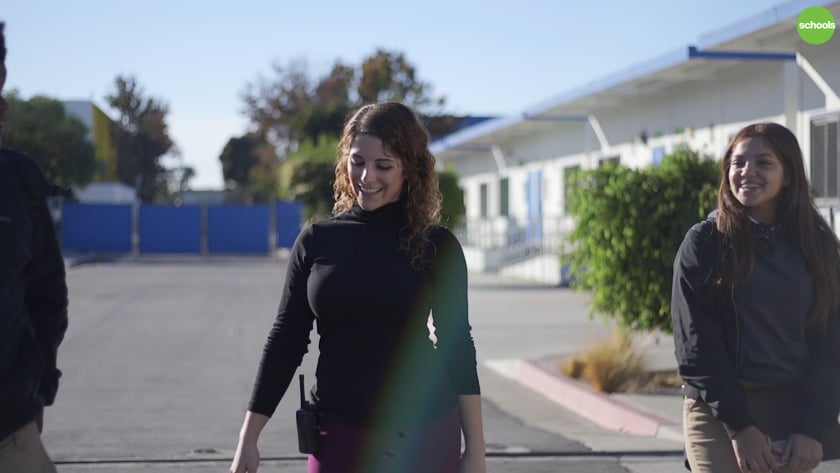 Meet an educator at one of our transformation schools in Los Angeles
Teacher Benefits Include:
Our mission is to help transform public education so ALL students graduate prepared for college, leadership and life.
Collaborative Environment
Work closely with passionate, like-minded colleagues by sharing best practices on a regular basis.
Small School & Class Size
Our schools serve around 600 students, and the average class size at Green Dot is 25-30 students.
Green Dot offers salaries that are competitive with surrounding districts and a robust benefits package.
Career Advancement Opportunities
Green Dot creates career ladders with opportunities for leadership, specialization and internal growth.
 Transformations are at the Core of Our Mission
---
Green Dot wanted to counter the common myth that charter schools select students who are "easier to educate" and push out students who may require more assistance, leaving a student population that is more likely to succeed. The transformation school initiative is an essential part of proving that when given the room to innovate and reimagine school culture, charters could serve the same students and help them achieve more.
We believe in taking a rigorous teaching approach
At Green Dot, we're moving forward and closing gaps in learning. As a middle or high school teacher, you'll combine a rigorous curriculum with the academic counseling and support our students deserve and need to succeed.
We hire strong leaders and support teachers
You'll be surrounded every day by a supportive network of intelligent, passionate, and hardworking colleagues. You'll receive unmatched feedback, thrive in a diverse culture that encourages collaboration, and gain opportunities to grow through data-driven professional development.
We help make social change real
Join us in taking the lead in public education reform. We're making a difference for students who have historically been underserved by failing schools. Whether you work in Los Angeles or Memphis, you'll help shape the trajectories for your students by providing them the quality education they deserve.